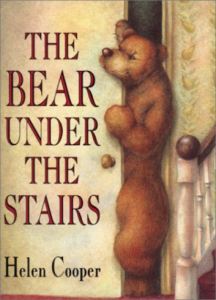 The Bear Under The Stairs. Written and illustrated by: Helen Cooper. Published by: Penguin Books
Summary: William is scared of the bear that lives under the stairs. William feeds him, worries about him. And finally, tells mum about him… Together William and mum confront the bear under the stairs, and find out maybe there's nothing to be afraid of.
Why it's worth repeating: This lovely book, with dreamy illustrations is perfect for helping children discuss their own fears. Repeated readings also allow you and your child to spot the clues that there might not be a bear after all!
Things to talk about while you read:
What would you feed a bear that lived under the stairs?
What foods do bears like?
What other food begin with a 'b'?
What would you do if you thought there was a bear at home?
Are you afraid of anything?
If you're scared of anything you should always tell me
Would you like to live under the stairs?
Activities:
Draw a picture of a bear that could live under the stairs (Just like William does!)
What would a bear's drawing of you/your child look like? Have a go at drawing each other and at self-portraits!